The One punch man workout: Most of us wish to be fit like action heroes and fight with the villains. We all are familiar with the fact that we won't be able to achieve the body or physic like heroes or heroines without doing any exercise. To be fit, we have to maintain a diet and do exercises regularly.

Most of us watch movies, T.V Shows, Animated videos, video games in which the hero fights with the villain and gets his property back (which includes many more such as princess, power, money, justice and so on).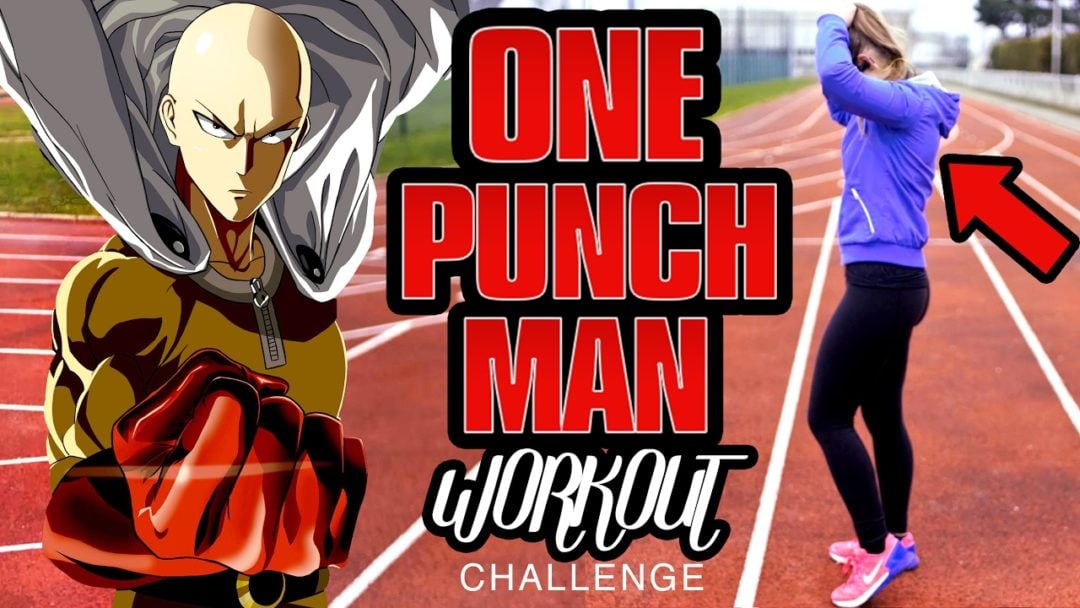 The One Punch Man Workout Challenge:
Nowadays everything has become technological, and in a day many new games are evolved. In today's article, we are going to know about ONE-PUNCH MAN. It is a Japanese superhero webcomic created by ONE which came in the form of series in early 2009. One wanted to focus more on everyday problems and include them in the series. The series become viral and hit around 7.9 million people in June in an incredible way.
The series is all about a hero who has an unusual issue. He is too strong that he can end the fight with his single punch and call the One Punch Man. The series comprises of animated fights and extraordinary background work which is being attracted by most of the viewers and made this series popular. Most of the viewers are interested in the evolution and the fitness of the one punch man. Well, in our article we all are going to come to know about the details of one punch.
The name of the hero is Saitama, whom itself started as a joke at Japan's action. Later it had become into a well-drawn series from which the viewers are expecting to see Saitama as the killer of a monster. The series describes all about the secret training offered to the hero which changed him from a humble Japanese Man to a super hit hero.
So, let us get started with the work out of our superhero.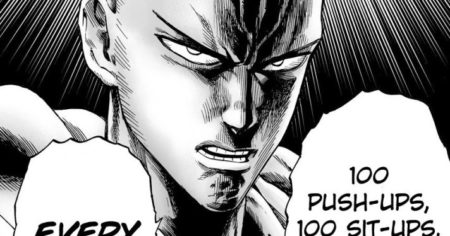 The One Punch Man Routine Workout:
A daily schedule of our superhero Saitama will be as follows:
Push-ups – 100
Sit-ups – 100
Squats – 100
Running (10 km around 6.1 miles)
The same process goes on for 7 days a week.
The task seems to be a bit difficult right to be a successful sports player, and be healthy the tips which we have discusses below are needed. Well, most of you might have doubted the workout of our superhero. How does this workout help us? The answer to your question is as follows: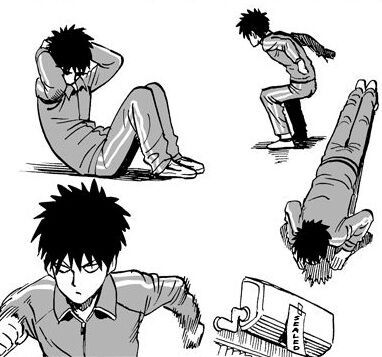 What will Saitama's workout do for you?
Most of us may not have the power to hit and finish the opponent with a single punch. If you practice the above tasks, then you can do it. But the fact is that in the gym we exercise through machines whereas through this we can reduce the machine power. The workout includes push-ups( which helps you for the movement of your body), sit-ups (part of the core-training), leg training which comes from squats and cardio from running.
This training is more beneficial than gym training. This method doesn't need any type of machine power, there will be issues related to injury, and finally, the muscle power increases.
Boxers, Martial artists, and another sportsperson who wish to be fit are suggested to follow the tasks mentioned above to be fit and healthy.
Pros of One Punch Man Workout:
The Push up's, Sit up's acts as a catalyst to reduce your body weight
No need for any machines
Muscular Endurance
Cardiovascular Endurance
Very Easy to Implement
The user feels very funny.
Cons of One Punch Man Workout:
It doesn't build excellent force production
Can't be useful if you wish to increase your muscle growth
How can we work out as our superhero?
Well, it is not easier to work out as Saitama. It isn't as simple as hammering out 100 reps of 3 exercises and running out 10 km.
To aid you we have come forward with a few methods as follows:
Break up the 100 reps into multiple sets with a minimum break of 2 to 3 minutes. This method helps you to be not tired and be healthy.
Instead of working out whole day divide the reps shortly as morning 10 Sit up's, Push up's, squats and after 10 mins do repeat the process.
We advise to follow the above methods only 3 or 4 times a week and take rest. If you do this exercise continuously, then it may affect your health both physically and mentally.
I am providing a sample of workout of 3 weeks for better understanding:
Week 1:
Monday: 5×5 Push-ups,5×10 sit-ups, 5×5 Squats.
Wednesday: 5×6 Push-ups, 5×11 sit-ups, 5×6 Squats.
Friday:5×7 Push-ups, 5×12 sit-ups, 5×7 Squats.
Week 2:
Monday: 5×8 Push-ups,5×13 sit-ups, 5×8 Squats.
Wednesday: 5×9 Push-ups, 5×14 sit-ups, 5×9 Squats.
Friday:5×10 Push-ups, 5×15 sit-ups, 5×10 Squats.
Week 3:
Monday:7×6 Push-ups, 7×10 sit-ups, 7×8 Squats.
Wednesday: 7×7 Push-ups, 7×11 sit-ups, 7×9 Squats.
Friday:7×8 Push-ups, 7×12 sit-ups, 7×10 Squats.
Well, here comes the most interesting topic which is nothing but the diet (food).
The Diet:
The only rule our superhero has followed is not to skip the breakfast. You can have a banana in the morning.
Vegetables:
To balance the PH of your body, for muscle's movement, to get vitamins and minerals you are supposed to eat more vegetables than meat.
If you are working out for 3 days a week, then you have to choose protein powders like Optimum Nutrition Gold Standard or Dymatixe XT Line.
These are the few steps which we recommend you to follow to be as our superhero Saitama. So, why late guys are you all ready to be as Saitama. If you do so then start doing the tasks and be fit and healthy. I hope that the article was helpful. Eat well, be happy and always keep smiling. Have a good day to all of you.
One Punch Man Workout Results:
One of the best One Punch Man Workout results got a Singaporean 38 Year Old guy Sean Seah.
He Accepted 30 days challenge of One punch man and got unbelievable results.
He is 40 years old and how he was looked like before challenge, His weight was 70kg and fat rating 10.
By day 17, Seah acknowledged he had hit a level and quit getting results. Thusly, he expanded his exercise to level 7, completing 70 push-ups, 70 sit-ups, 70 squats, and a 7-km run every day.
By day 22, he increased it to level 9 and by day 23, he was finishing the full One Punch Man exercise at level 10.
From Fat to Fit within 30 Days
Within 7 days, Seah lost 2.8kg and fat rating dropped 10 to 9 and body age 40 to 37
Seah said he would not be proceeding with the One Punch Man exercise regular yet will rather adhere to an increasingly economical three to four times each week preparing a plan. He will likewise be including opposition preparing by setting off to the rec center.