healthy recipes 2020: Since you are stuck at home because of the pandemic, one way to make your summers fun is having a fantastic backyard barbeque. Barbecues are fun, but when you are trying to watch your weight and avoid eating fatty foods, they can have a lot of tempting food that you may be trying to avoid.
However, all grilled food doesn't have to be bad for your weight, if you know the right recipes, you can make some amazing snacks and meals on the grill that will provide your healthy proteins, and help you burn fat.
Therefore, keep reading to check out some of my favorite healthy grilling recipes.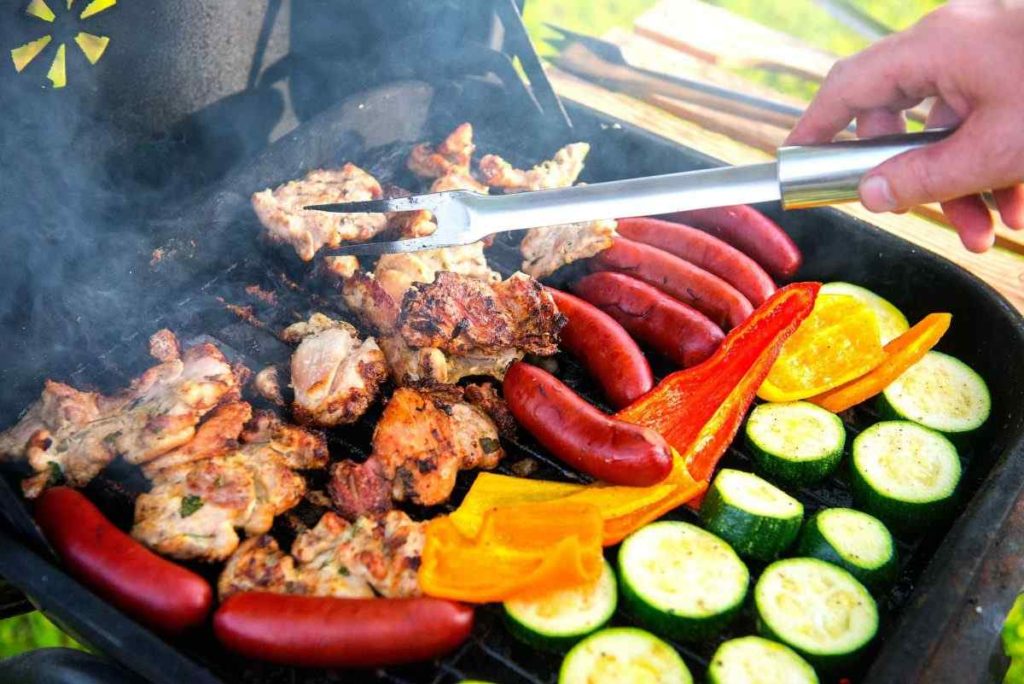 Healthy Recipes 2020
Grilled orange and teriyaki Brussel sprouts
Prep time: 5 minutes
Cooking time: 15 minutes
Yield: 4 servings
Ingredients
Small brussels sprouts (1 lb.)
Blood orange and avocado oil (2 tbsp)
Teriyaki sauce (2tbsp)
Instructions
Firstly, thoroughly clean and Brussels sprouts, preferably look for small sprouts, but if they are too big to be put on a skewer, cut them in half
Now, steam the brussels sprouts for about 3-4 minutes. They should be tender, but not cooked through. We will finish cooking on the grill to get a nice smoky flavor on the exterior. Check out some reviews for the best pellet grills in the market, so that you can keep the barbeque going on for longer.
Add the teriyaki sauce and orange-avocado oil in a bowl, and toss the sprouts in it to coat them evenly.
Put the Brussels sprouts on skewers and let them rest on some aluminum foil so that they may lose some of their residual heat, which could burn them while charging.
After five minutes, place the skewers on the grill until they are crispy and charred on the outside. About 30 seconds to a minute should be enough.
Take the sprouts of the skewers and serve.
California grilled steak
Prep time: 30 minutes
Cooking time: 20 minutes
Yield: 4 servings
Ingredients:
Balsamic vinegar (3/4 cup)
Garlic powder (1 tsp)
Honey (2 tbsp)
Extra-virgin olive oil (2 tbsp)
Italian seasoning (2 tsp)
Salt and freshly ground black pepper
Boneless and skinless chicken breasts (4)
Mozzarella cheese (4 slices)
Avocado (4 slices)
Tomato (4 slices)
Instructions:
Take a small bowl and whisk the balsamic vinegar, oil, Italian seasoning, honey, and garlic powder. Season it with some salt and pepper.
Now, place the chicken breasts in a Ziplock bag and pour the marinade over it, sparing a little bit for basting. Set aside in the refrigerator to marinate for a minimum of 20 minutes.
After the marination time is done, fire up the grill and take the chicken out of the marinade. Dispose of the marinating liquid.
Grill the chicken breasts on medium-high heat for about 8 minutes on each side, until it is seared and cooked.
Place a slice each of cheese, Avocado, and tomato each chicken breast a couple of minutes before taking it off the grill.
Garnish with some chopped basil and serve.
Lime and Cilantro Grilled salmon
Prep time: 10 minutes
Cooking time: 15 minutes
Yield: 4 servings
Ingredients:
Salmon fillets (4 6-oz pieces)
Salt and freshly ground black pepper
Butter 4 tbsp
Lime juice (1/2 cup)
Honey (1/4 cup)
Garlic (2 cloves, minced)
Cilantro (2 tbsp, Chopped)
Instructions:
Season the salmon fillets with pepper and salt.
Fire up the grill, and place the fillet on its skin side up. Cook for 8 minutes without disturbing, and then flip. Cook for another 6 minutes and then take it off the grill.
Let the meat rest before you cut it or start eating.
Now, take a medium-sized saucepan and make the sauce. Add the butter honey lime juice and garlic to the saucepan and stir over medium heat until the butter is completely melted. Mix to thoroughly combine all the ingredients, then turn off the heat. Add the cilantro to the sauce.
Plate the salmon fillets and pour the sauce over them before serving.
Cauliflower bun burgers:
Prep time: 25 minutes
Cooking time: 45 minutes
Yield: 4 servings
Ingredients:
For the cauliflower buns:
Cauliflower (1 large head)
large eggs (2)
Freshly grated Parmesan cheese (1/2 cup)
Cornstarch (1 tbsp)
Salt and freshly ground black pepper
Sesame seeds (1 tbsp)
For the burgers:
Ground beef (1 lb.)
Salt and black pepper
Vegetable oil
Cheddar (4 slices)
Slices (4 slices)
Lettuce
Instructions:
Start by preheating your oven to 425 degrees F
Grate the cauliflower and microwave it on high for about 8 minutes.
Drain the cauliflower and place it on a paper towel for a few minutes to let the moisture dissipate.
Once the cauliflower is dry, throw it into a bowl and add the eggs, parmesan cheese, and cornstarch. You can also season with some salt and pepper if you want.
Thoroughly mix the cauliflower mixture and form bun sized circles on a parchment-lined baking sheet.
Sprinkle some sesame seeds on top, and slide into the oven for 20-25 minutes.
In the meantime, you can get started on the burger patties. Shape the ground beef, and season with salt and pepper
Fire up the grill and cook the burger patties for about 4 minutes on both sides. A minute or so before you take the patties off the grill, place the cheese slice on top and let in melt on the Pattie. Close the lid of the grill to help the cheese melt
Assemble the burgers on the cauliflower buns, with some tomato and lettuce for a healthy and delicious burger.
Steak fajita skewers
Prep time: 15 minutes
Cooking time: 25 minutes
Yield: 8 skewers
Ingredients:
Sirloin steak (1 lb., cut into cubes)
Small flour tortillas (1 pack, broken down to large pieces)
Bell peppers (4)
Extra-virgin olive oil
Salt and freshly ground black pepper
Instructions:
Fire up the grill and let it get up to temperature. Assemble the steak cubes, folded tortillas, and the bell peppers onto the skewers, and season them with salt and pepper according to your preference.
Grill the skewers, while occasionally turning to avoid burning, about 7 minutes should get a steak medium rare and the vegetables charred and tender.